By 1955, before the appearance of large-scale longline vessels with ultra-low temperature refrigeration equipment, tuna Sashimi was mainly fresh tuna caught from sea . At this time, there were almost no customs eating raw tuna in the inland, since it was the rare fish and was edible only in few limited areas located near the fishing grounds such as Shiogama, Katsuura and Choshi. This is because it is difficult to maintain freshness for the red meat and the fat meat of fresh tuna, which is characteristic of Tuna. Afterwards, with the development and popularization of ultra-low-temperature refrigeration technology making it possible for a long term preservation for carrying to distant areas. However, the meat quality of frozen Tune is somewhat watery, and thus giving less taste and not sticky compared to the refined taste offered by fresh tuna.
Meanwhile, with the development in circulation and distribution, Fresh Tuna today has been served nationwide, not only in some restricted coastal areas like before. However, the quantity is still limited since the catching is seasonal.
Even now when Japan being said " the age of Satiation with food", the true taste of fresh tuna is still not easily acessible to everyone.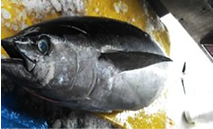 Therefore, Evertrust Foods, with the idea " Making more and more valued customers being able to enjoy the full taste of Tuna easily", is developing the processing of fresh tuna with high freshness using Quick freezing technology, which can give you the real taste of fresh tuna different from the taste given by frozen tuna.